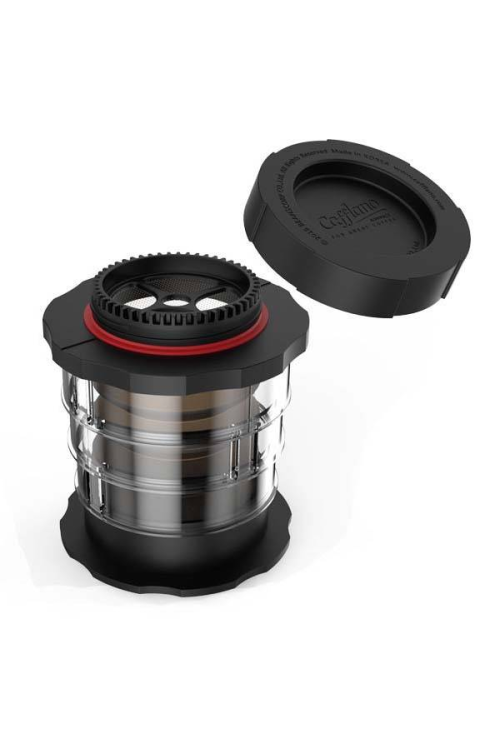 -15 %
CAFFLANO KOMPACT Black
CAFFLANO KOMPACT Black
Cafflano® Kompact is compact, just like its model name, and it weighs only 220g. Its height is only 61mm when shrunk and 122mm with full set up. Its diameter is 108mm to be able to use on most size of cups. Making this smallest press-typed coffee brewer in the world was possible thanks to utilizing silicon bellows as its press chamber. Not only portability, but we focused on making a brewer that is safer and enables precise pressing. Cafflano® Kompact has single open-side architecture to prevent steam or hot water leakage and foldable press guide enhances safety.
Silicon Bellows Chamber
Cafflano® Kompact uses silicon bellows that have never been used on any kind of coffee equipment before. They were adopted to make brewing easier and efficiently transmit maximum pressure onto brewed coffee within the chamber. The bellows provide many benefits that other press-typed coffee brewers cannot offer; ① creates more pressure with easy-to-hold squeezing handle, and ② totally irrelevant to cup types; even brewing on a flat dish is possible. The bellows are made of food grade silicone and their high melting point of 220°C and pumping-enabled structure make it easier to clean the Micro Filter and the chamber. You can put maximum 270ml of water into the Bellows Chamber, but we recommend you to put 200ml for a single brew coffee. They are also dishwaasher safe.
Cold Brew
Another big advantage of Cafflano® Kompact is being a cold brewer that can be taken along anywhere. Making and carrying cold brew has never been easier thanks to Cafflano® Kompact's spill-free airlock cap, not to mention its portability.
Just put coffee grounds into Cafflano® Kompact, add room temperature or cold temperature water and close the airlock cap. You can then leave it for over 5 hours minimum and simply press to brew whenever, wherever.
Stock:

In Stock

Model:

CAFFLANO KOMPACT Black

SKU:

CAFFLANO KOMPACT Black

Cafflano