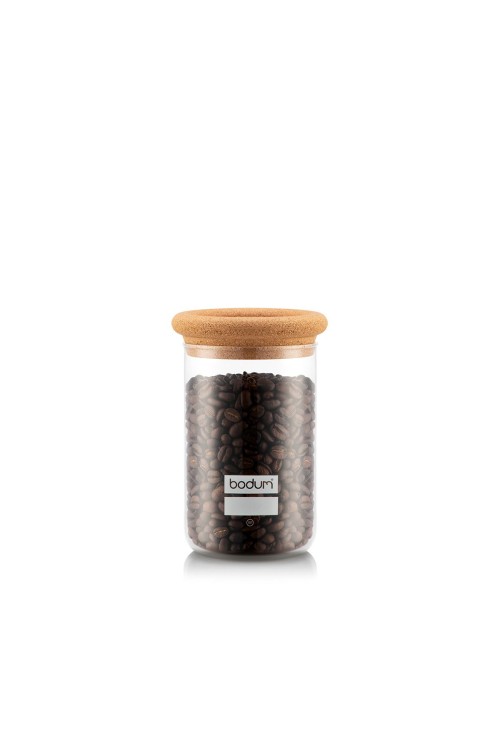 -47 % 2-3 Days
Bodum Coffee Storage jar with cork lid, 0.6 l,
About the YOHKI SET Storage Jars
Banish kitchen clutter and bring order and style to your cupboards or worktops courtesy of the YOHKI SET Storage Jars. The perfect blend of utility and style, these elegant storage jars enable you to store and display a variety of foodstuffs, such as coffee beans, tea, pasta, rice, grains, flour, nuts, and many other pantry staples.
Crafted from premium quality borosilicate glass, the YOHKI SET Storage Jars don't absorb any aroma or flavor from their contents, and they endure multiple uses while retaining their brilliance. Simply pop the glass jars in the dishwasher after each use, and they will emerge as good as new again.
Each storage jar comes with an airtight lid that keeps its contents fresh and tasty, while the transparent design enables you to see at a glance what's stored inside. The perfect space-saving solution, these storage jars fit Bodum's mission for ensuring less waste and more taste throughout your kitchen.
Main Features & Benefits
Stylish storage jars, perfect for storing a variety of foodstuffs from tea and coffee beans to pasta and grains
Made of high-quality borosilicate glass that won't alter or impair the taste of the contents and doesn't absorb any aroma
Lightweight and crystal-clear
Available in a range of different sizes
Easy to clean
Dishwasher safe
Use & Care
Wash in warm soapy water before first use and dry thoroughly. The glass is dishwasher safe.
Stock:

2-3 Days

Model:

85601092

Bodum